Argentina has a rich gastronomy sheltered in its vast and fertile fields, where cattle grow wild and all kinds of cereals, fruits and vegetables are abundantly grown.
Below in this article we described the 10 typical best foods of Argentina.
Argentine barbecue, all Argentina


Although lamb, pork and other cuts are also popular, Argentine roasts are mainly made of beef, since the country's herd exceeds 50 million cattle (more than one per inhabitant).
The most common methods are cross roast (typical way of preparing a whole lamb), stake roast and spit roast, while the iconic cut is rib or strip.
As the barbecue is simmered and takes its time, the Argentines eat the picadita and the choripán accompanied by a good red wine from Mendoza.
Locro, province of Chaco


The locro is typical of the Chaco, province of Norte Grande Argentino in the northeast of the country. It is a stew of pre-Columbian origin, although its definitive recipe was made up of the arrival of cattle and pigs brought by the conquerors.
It is a succulent dish based on beef, sausages, pork legs, fat tripe, beef tripe and smoked bacon, as the main animal components. A caloric stew that is consumed with red wine, especially in winter.
The vegetables used are beans, white corn and squash. Some of the many recipes for locro include cassava, wheat, and peas. The meat can be fresh or in jerky and cooking is over low heat.
The most succulent locro (pulsudo or poor locro) does not have meat, while the "light locro" has fewer ingredients and its texture is light.
The dish is traditionally eaten on the main Argentine national dates such as May 25 and July 9. It is prepared and served in summer with soft drinks and light drinks.
Roast lamb, Chubut province
Chubut is one of the provinces of Patagonia and Patagonian lamb is one of the typical dishes of Argentina. It is a popular animal in the region whose meat is tender, lean and with a tasty flavor.
For an Argentine lamb to be classified as Patagonian it must have been raised in a natural environment in the provinces of Chubut, Neuquén, Río Negro, Santa Cruz or Tierra del Fuego, with exclusive feeding of mother's milk and Patagonian forage.

It is easy to recognize in supermarkets by the blue background sticker with the stylized image of a lamb and the texts "Cordero Patagónico" and "Argentina".
Cross-roast lamb is done on a special spit in which the piece is secured by the legs with the head down, keeping it between 50 to 80 cm from the embers.
It is a typical dish from Chubut and Patagonia, where the animal must be between 3 and 6 months old, the age when the meat reaches its greatest tenderness and softness.
For a group of 6 to 8 people, a standing specimen of 8 to 12 kilos is needed.
Empanadas from Córdoba, province of Córdoba
A typical dish from Córdoba is Cordoba empanadas made with a dough of flour, brine and pork fat. The filling is a stew made from ground meat, eggs and vegetables.
For a good amount of empanaditas, mix 400 grams of flour, 100 cc of brine and 50 grams of melted pork fat, ingredients that are kneaded until well integrated.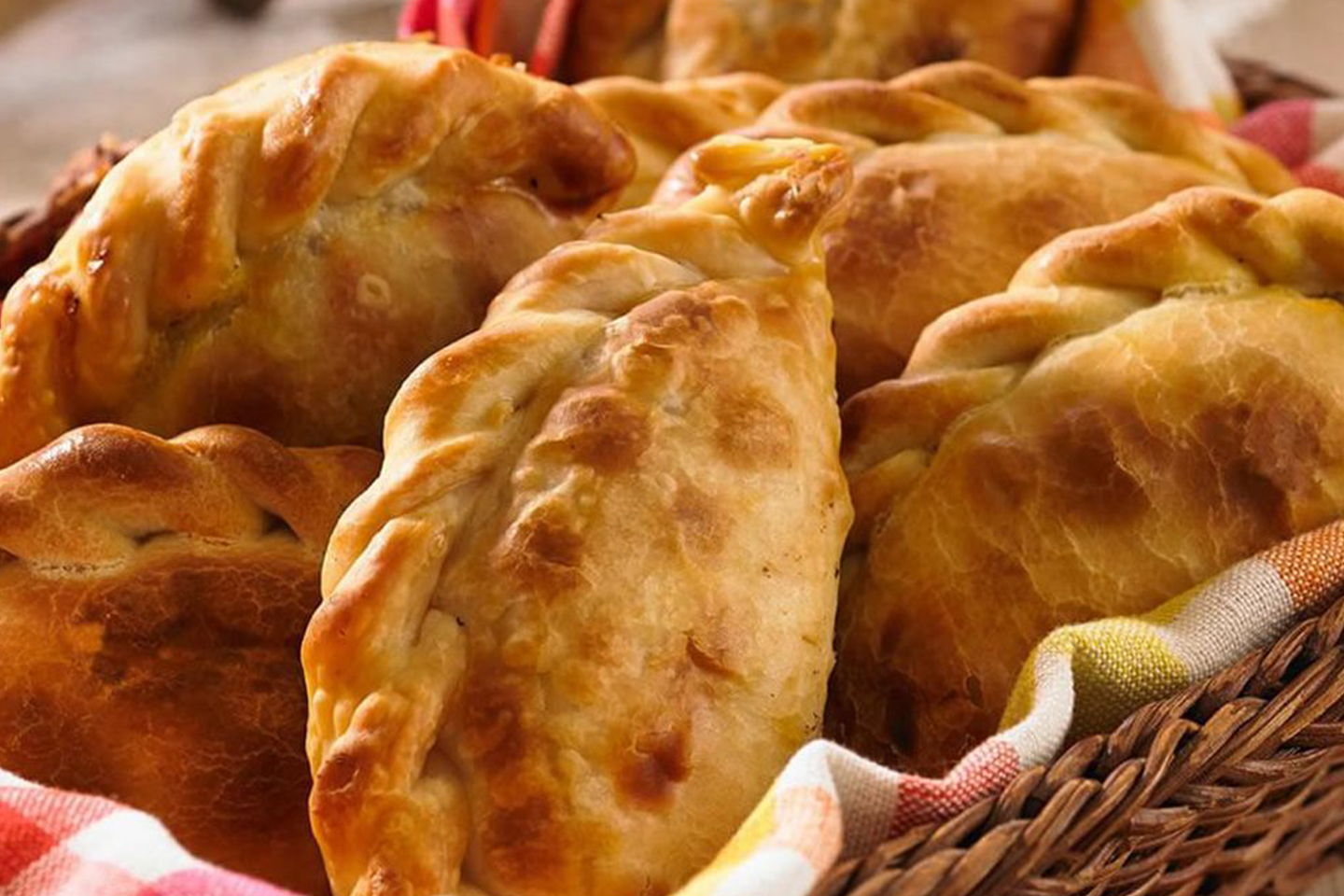 After letting it rest for 30 minutes, spread the dough to 2 mm thick and cut into rings of the desired size for the pie.
Red bell pepper (100 grams) is sautéed with onion (200 grams) and ground meat (200 grams) and salt and ground chili are added to taste.
It is cooked and green olives (20 grams), raisins (30 grams) and sugar (2 tablespoons) are added. 150 grams of minced potatoes are boiled until soft and added to the stew along with 2 finely chopped hard boiled eggs. The empanadas are assembled and baked.
Grilled Dorado, province of Entre Ríos
A simple local recipe for preparing goldfish is grilled.


A dressing is made based on garlic, onion, salt, lemon and chimichurri and with this mixture the open fish is bathed in butterfly roasting it on a wood or charcoal grill. When it is golden, it is removed from the heat, more lemon is added and it will be ready to eat.
Empanadas from Salta, province of Salta
The Deliberative Council of the city of Salta, capital of the homonymous province in northwestern Argentina, declared April 4 as the "day of the Salta empanada."


On that day, tourists enjoy a larger portion of the popular salteñas "chuecas", accompanied by the typical drinks of the region and the rejoicing of the population.
They are prepared with the excellent Argentine lean meats, potato, hard-boiled egg, chives, onion, bell pepper and paprika or paprika from the Calchaquí valleys, a vegetable emblem of this territory that includes parts of Salta, Tucumán and Catamarca.
Some versions have olives, peas and raisins. They are cooked in a clay oven or fried in fat pella (fat that surrounds the entrails of the pig).
The most typical drink to accompany Salta empanadas is torrontés, Salta's flagship white wine with moderate acidity and smooth on the palate.
Alfajor santafesino, province of Santa Fe
The province of Santa Fe, in the northeast of the republic, houses more than 20% of Argentine arable land and is one of the granaries of the country and the world with large productions of wheat, corn, soybeans, sorghum and sunflower. It also has a strong livestock activity, both intensive and extensive.

One of the gastronomic symbols of Santa Fe is the alfajor from Santa Fe, a famous and tasty cookie bathed in meringue and filled with dulce de leche.
Choripán with chimichurri, all of Argentina


A chorizo in a bread sauce with chimichurri is a simple dish that unites the Argentines.
It is claimed that it was created in the mid-19th century in the Río de la Plata region by gauchos who lived in rural areas. It is part of the traditional Argentine barbecue and is a common snack during soccer matches.
It is made with an open bread, usually French, and a whole grilled chorizo. The chorizo is almost always the so-called criollo or parrillero, made up more or less of 70% beef and 30% pork. It is soft and grilled fresh without prior smoking or drying.
Chimichurri sauce is another icon of Argentine and South American gastronomy. It is basically made with parsley, garlic, chili, vinegar and salt. Other ingredients that may be present are onion, chives, pepper, oregano, thyme, bell pepper, bay leaf, and mustard.
Fernet, province of Córdoba


It is a high alcohol content drink made with chamomile, rhubarb, myrrh, cardamom, oregano and saffron, herbs that are marinated in wine alcohol. The content is then filtered and left to rest in oak barrels for between 6 and 12 months.
Fernet was introduced in Argentina by Italian immigrants who used it as a digestive tonic and in the preparation of homemade medicines. It is dark in color, has a bitter taste and an intense aroma, with an alcohol content of between 39 and 45 degrees, which is why it is mainly consumed in combination with mineral water, soda and soft drinks and as an ingredient in cocktails.
There are several commercial brands and the great Argentine consumers are the province of Córdoba and Greater Buenos Aires.
The combination of fernet with cola soda became popular in the city of Córdoba during the 1990s, later spreading to the rest of the country. As a home medicine, it is used in the treatment of gastrointestinal and menstrual complaints.
Tafi cheese, province of Tucumán

Another of the symbolic cheeses of Argentine gastronomy is this one that originated in Tafi del Valle, a welcoming town in the province of Tucumán, whose economy revolves around the production of milk and dairy products.
Its production began in the 18th century when Jesuit missionaries arrived in the area carrying cows, sheep and goats, with whose milk they taught the local aborigines how to make cheese.


Due to its history and culinary importance, Tafi cheese was declared a National Gastronomic Heritage.
It is a soft dairy with a unique flavor with a touch of delicious acidity similar to that of goat cheese. It is made by hand and its texture and flavor are influenced by different variables, such as recipes handed down from generation to generation and the feeding of livestock.
It does not have industrial production and is obtained mainly in farms in Tafi del Valle, Raco and San Pedro de Colalao.