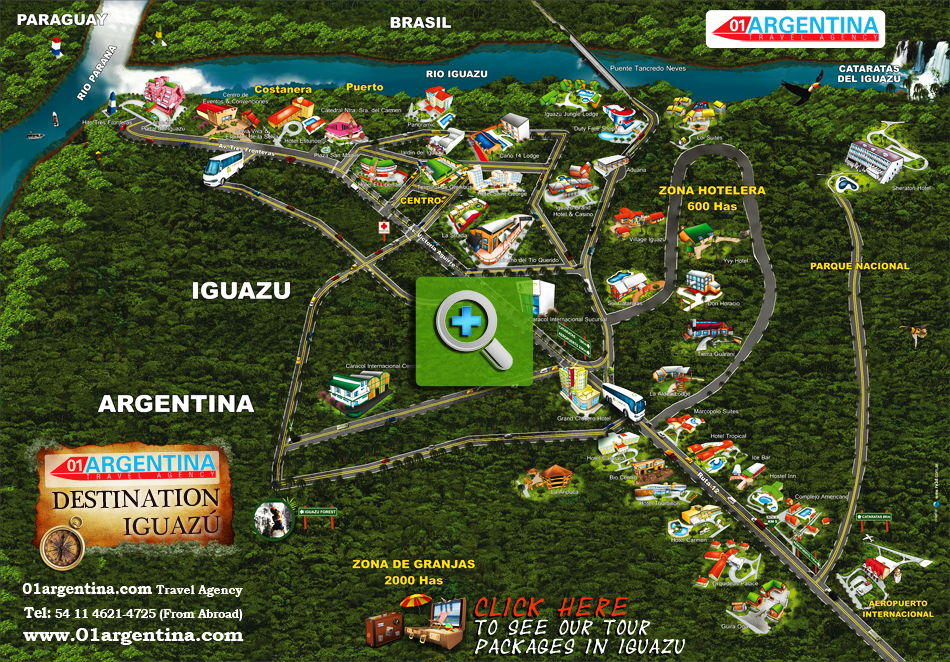 Geographic Location
The city of Puerto Iguazu is located 15 miles from Iguazu Falls on the border between Argentina, Brazil and Paraguay and this nice town provides the support services that complement this wonderful natural tourist destination.
Founded on September 10, 1901 as Puerto Aguirre, has completed its first 100 years and is located in the northwest of the province of Misiones. The town has 30,000 inhabitants and has many attractions for tourists. One of them, the Hito Tres Fronteras, a place where you can see, at the mouth of the Iguazu River in the Paraná River, the area covered by the three countries: Brazil, Argentina and Paraguay.
Safety is the main Strengh of this town and also the warm of the people.
In regard to the province of Misiones we can mention that more than 80% of their limits are international, bordering the North and East with the Republic of Brazil, and west by the Republic of Paraguay. Posadas is the capital of the province of Misiones, it is located 300 kilometers away from the Iguazu falls and 1,350 kilometers north of Buenos Aires, capital of Argentina. Misiones is located in the northeast of Argentina. It is located between latitudes 25 ° and 28 ° south latitude and between the meridians 53° and 56° west longitude.
In Puerto Iguazu as it is possible to see in the picture you can have all type of accommodations, from the most famous and incredible Sheraton hotel which offers an amazing view of the Iguazu falls from the confort of your room because it is inside the National Park, to the central hotels like Saint George, Orquideas Palace and Jardin de Iguazu. You also can get cheap options like bed and breakfast and hostels in this town. There is not excuse for not visiting this destinations since it is prepared to receive passengers with different types of budgets and request.