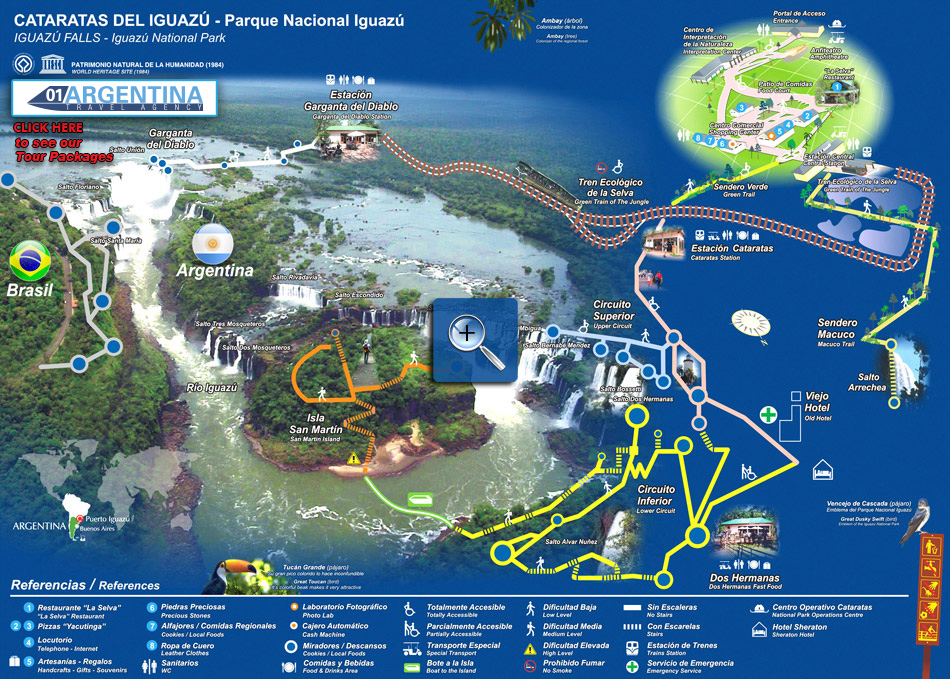 Argentina Travel Agency offer amazig tours to Iguazu Falls
Geographic Location of Iguazu Falls National Park
The Iguazu Falls are located within the Iguazu National Park, located in the extreme northeast of Argentina in the province of Misiones and belongs to the department of Puerto Iguazú.
The city of Puerto Iguazu is located at 17km from the Falls, on the border between Argentina, Brazil and Paraguay. More than 80% of their limits are international, bordering the north and east by the Republic of Brazil, and west by the Republic of Paraguay.
Posadas is the capital of the province of Misiones, it is 300 kilometers from the falls and 1,350 kilometers north of Buenos Aires, capital of Argentina. Mission is located in the northeast of Argentina. It is located between latitudes 25 ° and 28 ° south, and between the meridians 53 º and 56 º West Longitude.
Iguazu National Park map. The surface of the province is 29,801 square kilometers, equivalent size to almost 1% of the total land area. Over a thousand kilometers of international borders surrounding the province. Its geographical position makes it a very unique province. Iguazú Rivers, San Antonio, Pepirí Guazú and Uruguay are the limits with Brazil to the north, east and south west Paraná River marks the border with the Republic of Paraguay. To the southwest, and the streams Chimiray and Itaembé establish the border with the province of Corrientes, Argentina. But it also has a few feet of dry border: the town of Bernardo de Irigoyen Argentina connects with neighboring Brazilian Dionisio Cerqueira, barely a city street. Iguazu National Park is an amazing place to visit in your next trip to Argentina. Look more Iguazu Falls tours in our website and contact us for a quotation.
So in this page we provide you update and useful information to get oriented inside the National Parks with these maps of the Iguazu falls National Parks. We also can provide you by request the Maps of the town of Puerto Iguazu (Argentina) and Foz do Iguazu (Brazil). Feel free to contact us as well to request us a quotation for a complete tour packages to visit this incredible natural destination departing from Buenos Aires or from Rio. We have a large list of accommodations, tours and domestic airfares to make you easier the organization of your travel. Map of Iguazu National Park for free