1st Day in Uruguay (Colonia):
You will begin your tour to Uruguay leaving from the Buenos Aires port on a fast ferry. After the 1 hour trip on Río de La Plata, you will arrive at the Colonia port where a tourist guide from 01argentina will be waiting for you with a sign with your last name to transfer you to your Hotel in Colonia del Sacramento. In the afternoon we will pick you up to take you on a City tour in Colonia.

The tour in Colonia is an incredible tour along the city´s stone paved streets, old buildings and museums (Spanish and Portuguese) and beautiful riverwalks with the most romantic sunsets.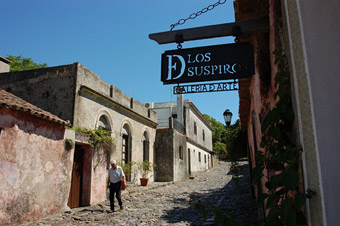 2nd Day in Uruguay (Montevideo):
After breakfast, you will check out of your Hotel in Colonia del Sacramento and depart by bus to Montevideo. After a journey of about 2 hours you will arrive in Montevideo, where you will be transferred to a Hotel for check in.

In the afternoon we will pick you up to take you on a City tour in Montevideo.

The City tour in Montevideo consists of 3 hours of pure enjoyment and will enable you to discover a modern city which has also preserved some of its beautiful 19th and early 20th century buildings. You will also observe Montevideo´s beautiful parks, many historic monuments and beautiful endless beaches.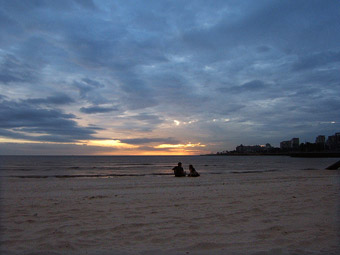 3rd Day in Uruguay (Punta del Este):After breakfast, we will pick you up in your hotel in Montevideo to take you on a full day tour to Punta del Este.

This is an excursion to a beach resort surrounded by sea and river waters and includes a view of the precious landscape of greenery and woodlands with its very typical but breathtaking fauna. This is one of the world's most sophisticated resort destinations.

You will visit residential neighbourhoods and have access to panoramic views of La Barra of Punta del Este. On Gorlero Avenue, downtown, you will be given free time to explore the city and beaches of Punta del Este on your own. Finally you will drive along Playa Brava on the trip back home. The Punta del Este tour finishes at your Hotel in Montevideo.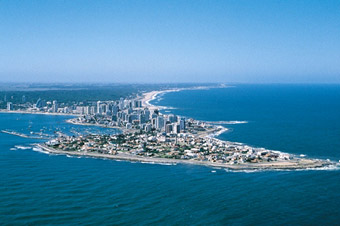 4th Day in Uruguay (Montevideo):
Breakfast. Free day to wander around Montevideo - we suggest visiting the riverwalks. In the evening you will be transferred to Montevideo port. After sailing for about 3 hours you will arrive in Buenos Aires. End of the Uruguay tour.

The Uruguay tour includes:
Fast Ferry tickets Buenos Aires - Colonia / Montevideo - Buenos Aires.
Transfers in - out of Port- Hotel in Colonia.
Transfers in - out of bus terminal in Montevideo
- Hotel - Port.
Bus ticket from Colonia to Montevideo.
1 Hotel night with breakfast in Colonia.
2 hotel nights in Montevideo.
City tour in Colonia.
City tour in Montevideo.
Full day tour to Punta del Este.
English speaking tourist guide.
Taxes.


The Uruguay tour doesn't include:
Transfers to and from Buenos Aires Port

This trip can be tailor-made for a time to suit you and can be adapted to suit your interests, budget and requirements as necessary